---
E-mails John Riper (Rotterdam, Netherlands) and Dorothy Yereance (New York State, USA)- 1995
---
On this page all about:
---
Who has information for me about the names RIEPER or RIPER, originally from the Altes Land, Germany?

John Riper
---
I don't know if this will help you but, it is a copy of an obituary in the Passiac Daily News. I don't know the year it was published. I came across it when I was doing a search on the name YEREANCE.

50 Years Ago
Dr. Van Riper Dies
Dr. Cornelius Van Riper, dean of Passaic physicians, died at 77 at the home of his daughter in West Roxbury, Mass. He was "an ideal physician," the Passaic Daily News said in an editorial, which also said he was held "in whole-hearted affection by a multitude of people."
Dr. Van Riper was born in what is now Delawanna. He was graduated from New York University in 1863 and after studying medicine in the office of a physician he opened his own office and an apothecary shop in Passaic in 1866. In addition to treating patients and supplying their medical needs, Dr. Van Riper was active in municipal affairs. He served on the board of education and municipal council. He was a banker and governor of the Passaic General Hospital.
Dr. Van Riper bore one of New Jersey's oldest names. He was a descendant of Jurian Tomassen, a Dane from the community of Ripa in Jutland. Tomassen married Pryntje Hermans after his arrival in the New World in 1663. In 1684 he became one of the original Acquackahonk patentess. When he died, his children took the names of Juriance, which later became Yereance and Auryanseh, and Van Ripen, which subsequently became Van Riper.
---
Thanks for your message about Dr. Cornelius Van Riper. I appreciate it very much.
My family originates from "Das Alte Land" (the Old Land) near Hamburg (South West of River Elbe) in Northern Germany, not far from Denmark. It is known that the name Ri(e)per comes from Konrad von Ripen who landed in Das Altes Land in 1371, however nobody seems to know where this Konrad came from. It is not inpossible that Konrad also came from Ripa, Denmark. Therefore your message can be of great value to me.
Next summer I intend to spend my summerholidays in Denmark. Maybe I can find out more there.
Thanks again and kindest regards from Rotterdam, Holland.

---
As I told you last month I have visited Denmark for holidays. Because of your article I went to the town "Ribe". This resulted in the following message that I today have sent to the newsgroups -.german and -.misc. Thanks again.
In his book Familienkunde des Alten Landes (Verlag der Zentralstelle fuer Niedersaechsische Familiengeschichte; Hamburg 1927) Heinrich Borstelman wrote in a chapter about typical "Altlaendische" familynames under the name Rieper :

First mentioned in 1371 (Urkunde des Depositums des Grafen Alexander Kielmannsegg in Guelzow, Staatsarchiv Hannover): KONRAD V.RIPEN farms out land near den Utwegen im Kirchenland Middelsten Lu.
In the past the following variations on the name RIEPER appeared: V.RIPEN, RIBERN, RIPER, RYPER, RIPERS and RIEPER.

The name RIEPER can be explained as rope-maker, also as surveyor (Low-German: reper). The above mentioned form V.RIPEN, however, points much more to a place-indication. In East-Frisian the word 'Ripe' means something like 'border' (of a street, of a river), and according to Dr. Iellinghaus in his book Holsteinische Ortsnamen a 'Riep' is a 'side-way'.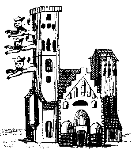 "Insignia Civitatis Ripensis" (1768)
Last month Dorothy Yereance sent me via soc.genealogy.surnames the text of a newspaper article about a Dr. Cornelius van Riper, who appeared to have been a descendant of "a Dane from the community of Ripa in Jutland". Being in Denmark for holidays anyway, I last week visited the town Ribe in Jutland, the oldest preserved Danish town. From historical books and maps in a local antiquarian bookshop I soon found out that till about the 16th century the name of this town was Ripen; on two old maps also written as Rypen and Riepen. Furthermore I found quite a lot of people with the name Riber and a single Ribern in the telephoneguide of Ribe (Rieper, Riper etc. do not appear). Consequently I think that, although Mr. Borstelman did not mention this possibility (almost 70 years ago...), it is very well possible that the names "Rieper" and "Riper" originate from the Danish town Ribe. Would like to receive reactions to this theory.
Regards John Riper

---
I received your message about your trip to Denmark and found it very interesting. Thank you for remembering to send a reply. I hope you had a nice vacation. I am sending you a copy of an excerpt from a book sent to me by the Passaic Historic Society in the state of New Jersy, USA. I live in New York State 60 miles north of New York City. New Jersey is just south of New York State. I hope footnote #2 will be of some interest to you.

EXCERPT FROM: "HISTORY OF THE CITY OF PATERSON AND THE COUNTY OF PASSAIC NEW JERSEY"
By William Nelson
Published 1901, Paterson , NJ
In April, 1663, Juriaen (1.) Thomasse (Uriah, son of Thomas) from Rypen, (2.) in North Jutland, sailed from Holland in T'Bonte Koe, "The Spotted Cow," in company with eighty-seven other passengers - men, women and children - in quest of fortune in the New Netherlands.
The notices of the young immigrant are extremely scanty in the early, records. He does not seem to have owned any lands at Bergen, although he evidently settled there soon after his arrival. He married Reyke Harmsse, May 15, 1667. He and his wife were witnesses at the baptism of their grandson, Jurjaen, son of Thomas Jurjaense and Jannetje Straet, Sept. 1, 1693, as set forth in the Acquackanonk church records, which contain no other mention of him, a fact which makes it seem unlikely that he settled at Acquackanonk at all. His death is recorded at Bergen, as having occurred Sept. 12, 1695. He probably died there.
Ryke Harmsse (doubtless his widow) was a witness at the baptism of another grandson, Jurie, son of Jan Juriance and Neeltje Gerrebrantze, in the Acqnackanonk church Feb. l0, 1703. She owned lot No. 2, in the Goutum sudivision. The date of her death is unknown.

(1.) The name-sometimes written Juriaen, Jeuriaen, etc. pronounced Yoo-re-awn.

(2.) Ripen is a city in the diocese of the same name; it has a venerable antiquity, and once was a considerable seaport, until the harbor became filled up. The Dutch wrote the name Rypen; in modern Dutch, Rijpen, indicating the sound of the long i. It may be noted here that some early members of the family called themselves indifferently Van Ripen, and Van de Ripe. The latter name would indicate an original emigration from a small town in North Holland, called de Rijp, dating from the year 1400, and now 2,000 inhabitants, with four churches, two harbors and a fine canal. In Passiac and Bergen counties the name is almost universally written Van Riper; in Hudson county some families write it Van Rypen. The descendents of Juriaen Thomasse were among the last of the Acquackanonk settlers to adopt a family surname, but for a century more rang the changes on Juriaense, Thomasse, Aelte, Gerritse, Harmsse, etc, etc.
Dorothy Yereance

---
This is great. Just the material that I am looking for. Here in Holland there is an association for stammering people the "Charles van Riper Vereniging", named after an American speech-pathologist Dr. Charles Van Riper. This association sent me in 1980 a brief autobiography of Charles Van Riper, which starts as follows:

So this Charles thought (and so did I), that his roots were in Holland! Thanks to your message however, I know that he too is a descendent of Juriaen from Denmark.
Thanks a lot and kindest regards,

John Riper
---
© 1997 John Riper